We Answer Wednesday - Multi purpose furniture
"We love the idea of owning furniture that does more than just look nice. We want to have furniture pieces that we can use as storage and can do double duty.. what are some suggestions?"
We hear from so many people that they want furniture that can do more than one thing. These days, we're always multitasking, everyone is always trying to do it all, between work, friends, life, family, balancing everything is what humans do best, so why should our furniture be any different? As much as we're advocates for everything to be beautiful, we understand that somethings need to have another purpose than just being nice to look at. We get lots of people asking about small space decorating. What are the best items to purchase for storage and that also look great? Here are a few suggestions of furniture pieces that can be multi-purpose, or do double duty.
Coffee Tables:
Instead of using a traditional coffee table, try an ottoman that opens up with storage inside. This is a great place to put your extra pillows and blankets or whatever you need to keep tucked away and don't have a space for. This can also serve as extra seating in your living room if you don't have enough for guests.
Another option is to have a solid material coffee table but make sure it comes with ample storage. Whether it opens up, or has lots of shelves and drawers. Make sure you utilize all the storage you can.
TV Walls:
Obviously, most people have a TV. Instead of just using that as a media space, use the extra wall space for shelves as well. Decorative baskets, books, personal photos. Create a gallery wall and use all the space available to you. Gallery walls are very on trend at the moment. Whether you create a modern, streamlined gallery wall, or an eclectic mix of all that you love – don't let usable space go to waste!
Dresser instead of a Console:
Most people have a table at their front door for keys and decorative pieces. Instead of just having a table there, add a dresser with storage and shelving. Having this extra storage at the front door can be very beneficial. You need spaces to put things like hats, mitts, scarves, mail etc. Having all these extra items hidden and organized will also be good for your mind. No clutter – no stress!
Hall Tree instead of just a bench at your entry:
Similar idea to the dresser at the front entry. Having a hall tree will give you the bench for added seating, it will also have hooks, and shelving, granting you more space for odds and ends. This is another great spot for kid's coats, back packs, shoes, hats, mitts, etc. Having these hooks and extra shelving options will be helpful organization for the whole family.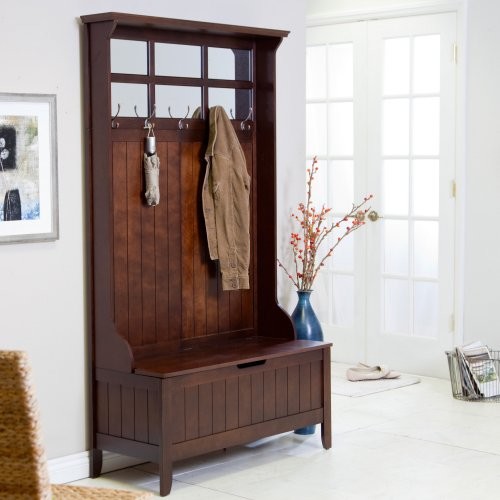 Sofa Bed:
A sofa bed is a fantastic double-duty item. Most people need a sofa somewhere in their home. And lots of people could also use an extra bed for guests. Why not purchase a sofa that can be used in multiple situations? Get something stylish that also serves as a guest space.
Chest/Bench in the bedroom
: Do you have extra space in your room? If so, add a bench at the end of your bed. Same idea as the ottoman suggestion. Add a storage bench at the end of your bed for items like pillows and blankets. Maybe even seasonal clothes. Not into the idea of a bench? Try an antique chest. Something that will add additional functionality to your home.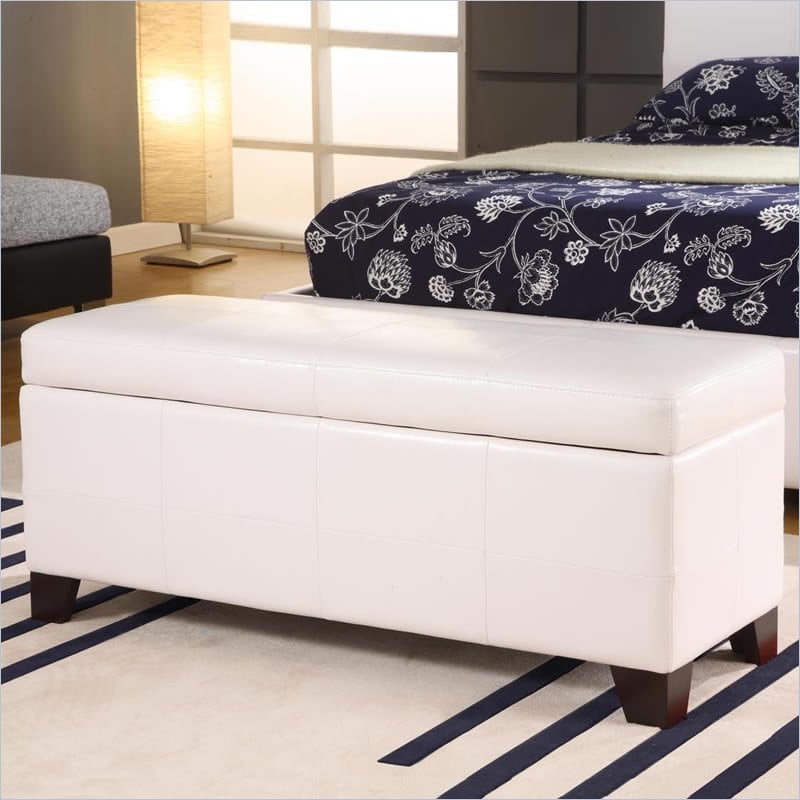 Bookshelf as a Room Divider:
Depending how large your space is, you may need to break up some open concept areas. Having a book case used as a room divider is a great option for storage and privacy as well. This is a great place to add accessories and accents as well such as picture frames and books. If you have an open concept space, or a studio space, a lot of times, you lose that extra wall space. Not having the wall space to add all these extra pieces is sometimes a downfall, but utilizing the space you have in smart way will contribute to an organized home.
Labels: condo furniture, kiki interiors, multi purpose furniture, small spaces, storage furniture, we answer wednesday