Last minute decoration ideas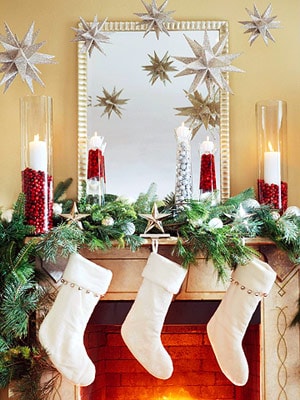 Yes, the holidays are here and although it is a fun time to celebrate with friends and family, it can also be very stressful! The food, the gifts, the drinks etc....can all be too much and add the decor too! I have found some great holiday decorating ideas and tips that are simple and make any home look fabulous for the holidays.
1 -- Put your glass vases to work or your cake stands by filling (or displaying) them with pine cones or Christmas ornaments .Use the vases/cake stands as a holiday decor piece on an end table, by the fireplace or on the coffee table. Group the ornaments by colour or shape.
2 -- A bright red tablecloth, with red candles or tea lights adds drama to the table but you can also add some
kosher
salt on the table. It looks like ice crystals. For the centre piece you could use some beautiful flowers (all one colour is a more contemporary look).
3 -- Turn off the lights and dine (and drink) by candlelight. It's romantic and festive but if you are serving a meal, I would recommend use unscented candles.
4 -- Add bows to the backs of chairs, door knobs, railings etc...but don't over do it.
5 -- Select a colour theme and stick with it. Gold and white is very formal, all red is bold and dramatic, silver is cool, red and green is very traditional - but you can also choose a funky colour palette such as
fuchsia
and turquoise. It's up to you!
6 -- Rosemary trees are very popular this time of year and they make for fragrant decor that can also be used in the kitchen (this is also a great gift idea).
7 -- Don't play with your food decorate with it. Large bowls of mixed nuts, clementine oranges, red and green apples and
pomegranates
make beautiful bowls come to life, add
splashes
or colour (and textures) and won't go to waste - encourage your guests to eat the decor!
8 -- Pine bows in a vase look very simple but elegant. You can add Christmas ornaments or bows for some flare.
9 -- Hang fishing line above doorways (or use twine) and paperclip or
clothes peg
your
Christmas
cards from this year (and/or previous years) to create a memory garland for the holidays.
10 -- Display your child's holidays art in frames or hung on the tree (depending on what they have created). The holidays are for everyone and children's art is always special and unique.
11 -- Keep it simple! Don't stress and enjoy your time together.
Labels: bennett pros, decor tips, holiday decor, holiday entertaining, simple decor