11 Expensive Design Mistakes You Don't Want To Make
We've all made mistakes when it comes to purchases. The sweater that was too itchy. The expensive wine that no one cared for, the list goes on.... Unfortunately, when it comes to your home, the stakes (and price tags) can be significantly higher. Of course, smaller purchases can be returned, but often the most impactful design choices require installation (and associated labour costs) that will have to be undone and redone if there's been an error in judgment along the way. The point is not to frighten you away from changing anything, ever, or to steer you toward only
neutrals
, but rather a reminder that you can save a small bundle if you avoid these big
blunders
.
1--
TV or artwork installed too close above a gas fireplace
"This one is so common: Installing a TV or coveted piece of artwork over a gas fireplace," says Crispin Butterfield, senior designer at
Urban Theory Interior Design in Brandon
, Manitoba. "From an aesthetic point of view, a 24-inch minimum distance, for example, between
fireplace
and the bottom of your object might not look proportionate, but trust me when I say following building codes and manufacturer installation instructions is crucial: the heat a gas fireplace gives off can and will melt your electronics and finishes if mounted too close to the output source," she says.
2 -- Shutters in the wrong windows
Plantation shutters, also called California shutters, look so tidy, and they block the sun like nobody's business. They also usually come with a hefty bill for a custom treatment, even at a big box store.
Shutters
, however, can be a mistake, not aesthetically but practically speaking. If you don't have privacy concerns and you love the sunshine streaming in, you might be better off with a simple treatment of sheers and elegant drapes, Roman blinds or even thick-slatted horizontal
blinds
that pull all the way up. Roman blinds, instead of shutters are a great choice when you don't need privacy.
3 --
Picking the wrong paint colour
"It's only paint" is a term Brett Walther, Home & Garden director at Canadian Living loathes. "It's often used by a patronizing expert who is describing painting your walls as a 'low-commitment' approach to colour," he writes in his
blog
. "As if patching holes, sanding, laying dropcloth, priming, painting and then painting again is the equivalent of casually throwing a new
toss cushion
on a sofa." Painting, when done by pros, can run into the thousands of dollars, so be sure to pick the colour by testing it, by painting samples on the walls first instead of relying on a small paint chip.
4 -- Wallpaper in a high humidity room
Adding expensive wallcoverings in areas with high humidity/moisture, like an ensuite or main bathroom is a potentially expensive design mistake, Crispin says. "Ensure ventilation and airflow are adequate before sinking money into gorgeous products that could potentially bubble and peel from the walls," she says. Humidity-friendly vinyl
grasscloth
and good ventilation in the bathroom pictured here, ensure the wallcoverings will not bubble.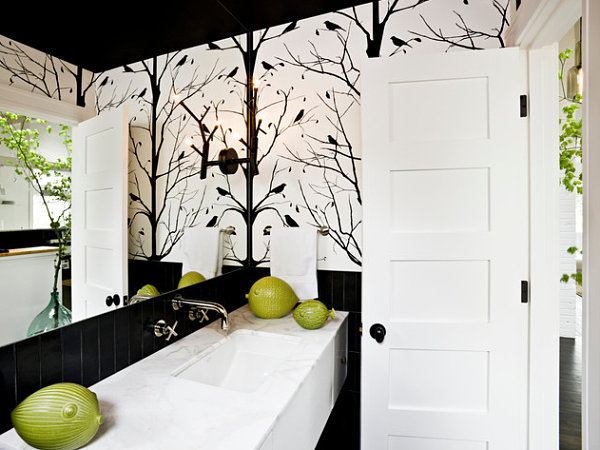 5 -- Choosing lighting for looks alone
Stylish
chandeliers
, sexy sconces, pretty pendants … yes, please! Be sure that they not only look good but that they will deliver the kind and amount of light you need by either hiring a lighting consultant or at the very least, having an in-depth conversation with a knowledgeable salesperson. Otherwise, you will have to find ways to supplement your lighting, such as with
lamps
. You don't want to call the electrician over a second or third time to change fixtures or add pot lights or dimmers because your new lighting makes the space too bright or dim.
6 --Gutting everything in a renovation
Not every room needs to be gutted "down to the studs," as they say. One could argue that the character and much of the beauty of many old homes has been taken away by overeager renovations. Heed your interior designer's advice when he or she suggests keeping or refurbishing something you already own, like
flooring
or
cabinetry
. She obviously thinks it's worthy of staying in your home and is just trying to save you money, and possibly headaches.
7 -- Bringing in the wrong furniture for your lifestyle
The issue with buying the wrong furniture for how you actually live is that you won't know it's wrong until you've had it long enough not to be able to return it. We all have an idealized design style, but it has to mesh with our day-to-day lives. Cream-colour velvet anything is not great for red wine lovers. A midnight blue sofa will drive you batty if you have white cats who shed hair on it. No sense investing in a beautiful
antique
bedroom dresser if everything inside will be a jumbled mess-- better to stick to using your closet. Be honest about your lifestyle and cleaning habits before you buy. White cat? Consider a white or cream-colour sofa to camouflage pet hair in between vacuuming sessions.
8 -- Measuring incorrectly
Ouch! This one can really hurt if you're buying a big ticket item or commissioning furniture to be built by hand. Contractors and designers alike agree that mis-measurements add up to big problems. A carpenter's proverb is to "Measure Twice. Cut Once." For you, dear layperson who does not take measurements for a living, the rule of thumb is always to measure three times.
9 -- Acquiring something because you "always wanted it"
Just because you "always wanted" something doesn't mean you should buy it or install it in your home. You may have always wanted a pony. That's not a good reason to buy one. Avoid the pricey interior design pitfall of buying only from your heart and not your head. It's fine to go this route if you're replacing broken servingware with the fine silver you've always dreamed of. On the other hand, a
finished basement
with a home movie theatre might be something you always wanted, but it is an expensive mistake if what you really need is a playroom for the kids. So what we say is: If you've always wanted a home movie theatre but need a playroom, go with the
playroom
.
10 -- Relying on Photos to make a big decision
Visit a showroom where possible when renovating a kitchen or bathroom, says Crispin. "Pictures in magazines are wonderful inspiration sources, but a professional in a showroom will be able to walk you through the reality of where your budget should sit to attain the space of your dreams," she says. "They will also sort through all of the options involved, and help determine what works best for you and your home." For instance, kitchen tile is high-commitment and should be picked in person before committing.
11 -- Too many custom pieces in an accent colour
"Using several accent colours in a space and having everything from pillows, to drapes, to custom upholstered chairs done up to match is an expensive and totally avoidable design mistake," Crispin says. "The rule of thumb to follow is the 80:20 ratio. Eighty per cent of your space is dedicated to symbiotic neutrals, and 20 per cent can go towards one or two fun accent colours," she says.
Labels: design mistakes o avoid, expensive reno mistakes, home design, home renovations, home updates, kiki interiors, reno ideas, reno mistakes