Bathroom Vanities for Every Size
Even though the bathroom is the smallest rooms in the house, it is also one of the most used rooms in the house - so shouldn't it be fabulous?
Whether you are renovating just for yourself or looking to update in order to sell - don't ignore the bathroom! It's a
hot spot for buyers
.
So if you are considering a
bathroom renovation
, take a look at this checklist of things to consider before you start -
1. How many people will be sharing the bathroom? If there are 3 or more you will probably need two sinks.
2. Do you have a linen closet? Towels eat up valuable space. If you don't have room for a closet (or it's not in the reno budget) look for a vanity will also serve as a linen closet, consider one with open lower shelves to stack towels and face cloths
3. Tight space? Of course you want to maximize the amount of vanity space in the bathroom but be sure to measure everything. Measure to make sure you can freely open any doors and drawers before you buy. What's the point in a vanity if you can't use the storage space?
4. What's included? Some manufacturers and some sell everything separately offer all-in one (sink, counter top and faucet) and in other cases you need to source out the faucet and sink on your own. So make sure you know what's included when you go to buy.
5. Tight budget? Want a new vanity but can afford it? How about dressing up what you have with paint and/or new hardware. Also try updating the mirror - it doesn't have to be expensive but something with a thicker or shiny frame looks more custom made. It can make a world of difference.
Vanities for small spaces:
- Round.
Round vanities
with legs keep a tight space from feeling crowded. Look for one with a drawer and a shelf that will also provide some storage, too.
- Wall mount. Wall mounted vanities are great for smaller spaces as they offer storage but because they are open at the bottom they don't have all of the bulk. Plus it is so easy to clean underneath wall mount vanities.
-
Dresser style
. Could be new or a converted vintage piece. It offers deeper drawers that you can easily add dividers too (or just use baskets inside, if you aren't handy) to help you stay organized. And with a smaller sink you an have more counter space
Vanities for medium spaces :
- Double Doors. A re-imagined dresser as a bathroom vanity allows for so much storage and counter space, too.
- Off side.
A floating vanity
(aka wall mount) is a modern and airy approach. By setting the sink off center you get much more counter space and still lots of storage with open and/or closed shelving- open shelves are perfect for things that you use everyday that are also attractive.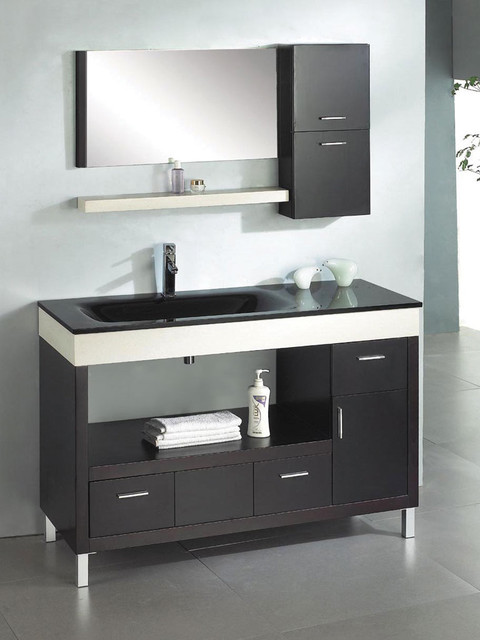 -
Farmhouse style
. A large farmhouse style sink gives you a large sink and works well with a wider space. Try wall mounted faucets to give it a streamlined look (it keeps the counters clear). the wall mount faucet is also great for vessel sinks.
Vanities for large spaces:
- Long and lean. If you can, go for length - you won't ever regret having all of the storage. Be sure to have a mix of drawers and cabinets. when doing a long wall of cabinets, try putting on some legs (short block ones are just fine) they will make the piece (and the whole space) feel and look less heavy. Personally, when there is a lot of cabinetry in a bathroom I like to opt for lighter tones like white, cream, soft grey or lighter wood tones it i more calming.
- Open up. If you have a large bathroom you might have other options for storage like a linen closet or linen tower. An
open vanity
can make any space feel very airy and light. Opting for something sculptural will make the space feel beautiful. The exposed piping can act as a handy towel rack, too.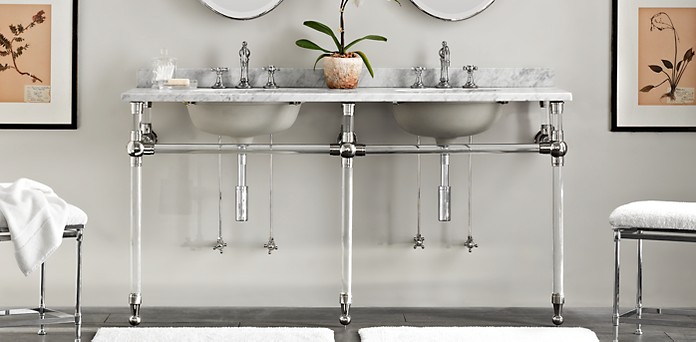 - Take a seat. If the space allows consider a
make up station
within the counter. Think about location of the make up station, personally I think it is best at the opposite side of the sink in order to keep everything dry. A make up station also looks great when centered between two vessel sinks.
Labels: bathroom renovations, bathroom updates, bathroom vanities, beautiful bathrooms, kiki interiors, large bathrooms, medium bathrooms, remodel ideas for selling, small bathrooms