Selling your home? Top 10 upgrades for your home
If you are thinking of
selling your home
in the near future, take a look at these tips for improving the appeal of your home to buyers. Some upgrades just aren't worth it, but for some there are huge benefits for you, the seller.
1.
The kitchen
. Buyers are willing to pay more or at least asking price if the home is 'up to date'. the kitchen is the heart of the home and sellers will get their money back if they spend it right in the kitchen. Even if you cannot totally gut it and put in an entirely new kitchen, you should put in certain upgrades like a
stone counter top
, hardwood or porcelain tiles on the floor, stainless steel appliances, and islands attract buyers. A home with a current kitchen will get a lot of attention from buyers!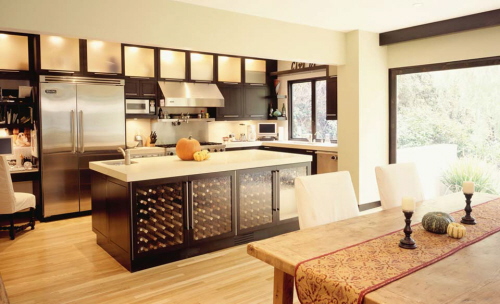 2. Hardwood floors. Especially on the main floor, and if you already have hardwood check on the condition they may need a sanding or screening with a new stain or seal. And if they are in really poor shape, replace them with hardwood. Hardwood is popular with everyone - it looks great, it works with any style of decor, it's easy to clean and it also works for anyone with allergies.
3.
Master ensuite
. If you have an ensuite and not all homes do, especially if they are in older neighbourhoods, be sure to have it updated. If you cant afford a full renovation job - try updating the fixtures from brass to chrome,a new low flow toilet, a new paint colour, new towel and toilet paper bars, and rain shower heads in the shower are easy fixes. If you don't have an ensuite but you have a large master bedroom, look into using some of the bedroom and turning that into an ensuite even if it is a bit smaller - buyers are looking for ensuites.
4.
Upgraded lighting
. New lighting can completely transform a space and make it look more current. Pot lights, pendants in the kitchen and contemporary track lights can make any space look brighter and more chic.
5.
Landscaping
. Don't forget your exterior - it's the first thing buyers (and their
realtor
) will see. Keep the gardens maintained, grass cut and trees/shrubs pruned. Remove the weeds and add some mulch to really make the flower beds look manicured. Flower pots and boxes at the front entry add some colour and a welcoming feeling.
6. Finished basements. Aren't just a must with families. a lot of couples buying their first place want a finished basement for various reasons - office, workout space, man cave etc...Try and make the basement look as livable as possible. Paint, carpet, windows and lighting make a huge difference. Keep it light and bright down there. ceiling height in the basement is very important so be sure to have a space that is high enough.
7. Bathrooms. Like kitchens, no one wants to pay top dollar for a home that needs major improvements and bathrooms are a hot spot in the home. If you can't afford a complete 'do over' in the bathroom, look at adding
new lighting
, paint, shower heads etc...in the other bathrooms too.
8. Radiator covers. Sounds like a strange one and it doesn't apply to every home, but if you are in an older home - it's a great idea, it looks more gracious and it's a simple carpentry job.
9.
Paint
. You will get your money's worth and more with a new paint job. In a home that has smokers this is a MUST. Stick to neutral tones throughout the home - you don't know what the buyer's personal style will be.
10. Basic repairs. Not really an upgrade but important. Leaky faucets, cracked tiles, unfinished projects in the home should be fixed before buyers enter your home. It sends the message that this home was and is cared for and loved. It makes buyers feel reassured and confident.
Labels: best home upgrades, home appeal, kiki interiors, listing your home, preparing your home for sale, selling your home, staging your home, what home buyers want