How About A Halloween Cocktail Party?
Halloween is such a fun and festive time of year..check your calendar because it's not that far away!
Halloween tends to be focused on the kids - the costumes, the decor and the candy but what about the grown ups? The adults should have a wicked good time, too.
So why not host a Halloween Cocktail Party, this year?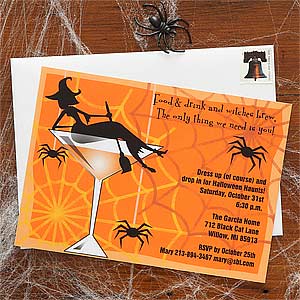 Think of a great theme - something cool and creepy... Ask guests to come in the outfit they'd like to buried in, to give the party theme an interesting a twist.
Picture dim rooms with candle light and soft yet spooky sounds in the air, orange background with spiders, snakes and crows strategically scattered, and pumpkins, too and serve up some orange satin cosmos and a devilishly tasty buffet.
Your guests will be under your spell....
Decor:
Honor the holidays classic colour combo. An orange palette with black accent works perfectly for evening. Near the front door, welcome guests with lanterns and/or candles to set the spooky scene. always have a core hosting area with seating and surface areas for food and drinks. Have autumn inspired florals if that's your thing but don't be afraid to have spiders, snakes, ravens, cats and skulls as a centerpiece and lots of cobwebs to make it extra scary. Black and orange candles look incredible for Halloween. And if you really want to take it to a new level, try a black feathered 'Christmas' tree but hang various Halloween finds like bats, skeletons and more
Food:
bowls of candy are a no brainer and a must. But for real food try items that are seasonal and easy. Pumpkin soup, mango-squash salsa, any munchies with cheese and fig are fabulous, veggies and dip (so easy and always a hit),
Music: Try a mix of songs that relate to the theme of Halloween - add these to
your party playlist
Thriller by Michael Jackson (of course),
Monster Mash,- Bobby Pickett and the Crypt Kickers
I put a spell on you - Nina Simone
Spooky - Atlanta Rhythm Section
Ghostbusters - Ray Parker Jr.
Witchy Woman - Eagles
Runnin' with the Devil - Van Halen
A Nightmare on My Street - DJ Jazzy Jeff and the Fresh Prince
Superstition - Stevie Wonder
Time Warp - Rocky Horror Picture Show
Werewolves of London - Warren Zevon
Drinks
: I like a self serve bar at this type of event. It's not a formal party so keep it casual. It is nice to greet guests with a signature drink like an
Orange Satin Cosmo
. In a large ice filled pitcher stir together 8 cups of vodka, 2 1/2 cups of mango juice, 2 1/2 cups of Cointreau or Triple Sec, 1 1/4 cup of fresh lime juice and 7 tbsp of super fine sugar. Mix well and strain into cocktail glasses. Garnish with black licorice sticks. This serves about 20. And, ALWAYS have non-alcoholic options for those who aren't drinking but still want to party!
But other great choices (for any party, really) Chardonnay and Shiraz are great Fall season go-tos.
How to pull it together in an organized way.
1. Send invites out about 3 weeks before the date. Halloween is once a year, so there could be lots of
parties.
2. Two weeks before hand, buy your decor, this way the stores won't be too picked over.
3. About 10 days before, get the candy and the liquor
4. One week before - get the wine and prep your playlist
5. 2 days before get the groceries
6. Night before start setting the scene. First adjust any furniture that may need to be moved out or just out of the way. I also like to do some decorating the night before.
7. Morning of, arrange flowers and chill the wine
8. 4 hours before, make some
cocktails
and prep the
salsa
, stock the bar
9. 1 hour before, remove cheese from fridge and assemble any salads you might be serving but do not dress
10. 30 minutes before,pre heat oven for any hot apps
11. 20 minutes before, put hot apps in the oven and set out bowls of candy, light candles, start music
12. Once guests have arrived, dress the salads and set up the hot and cold apps and desserts are to be served later.
13. Have a frightfully good time with your friends and family.....
Labels: adult halloween party ideas, cool halloween ideas, halloween cocktail party, host a halloween party, ideas for halloween parties, kiki interiors, party planning ideas