Sit Down! A Lesson in Sofas
Sofas count as one of the
biggest furniture purchases
you will make, so be sure you know what you are getting into and
make the right buy
for you!
You need to find the right style and the right size for your space. It also needs to suit your body while seated and while reclined, there's nothing like a lazy Sunday lounging and napping on the sofa...So before you commit to a new model or a custom design don't be afraid to settle in at the showroom.
The right depth in a sofa means your feet can lightly touch the ground. Do you prefer a firm or soft cushion? Is the arm rest at the right height for holding a drink? Do you want a higher arm rest so you can also use it as a back rest for movie nights in?
I think if you are going to spend on a sofa you are best to stick with a classic shape (if you do something bolder you can get it re-upholstered and it will look great because the lines are timeless). Here I will walk you through different and classic styles of sofas, plus what other details to look for:
It's all in the details -
-
button tufting
and tonal piping add distinction
- fringe introduces more texture for a traditional and formal look
- all over stripes can add a modern feel to any traditional piece
- casters add luster to a
short, turned leg
- lower arms are comfortable for napping
- a
deep box pleated skirt
adds a feminine touch to a sofa and as a bonus the area can be used as hidden storage
-
nail head trim
and a block foot give the sofa a tailored look.
- mixing solids with prints is playful and fun and can really show off your personal style.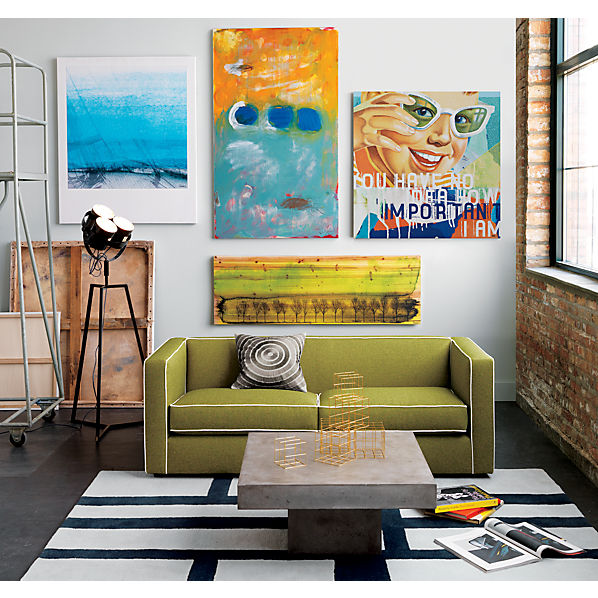 Ask about the fabric selection and think about your lifestyle. Do you have pets? Do you have kids? Will you allow food and drink in the room? Personally, I love leather for pets and kids (even messy husbands) it is easy to care for and clean and it ages beautifully. Stick with natural fabrics like linen, cotton, silk and wool in formal rooms those sofas that won't be taking a big beating. Synthetic fabrics are better options for withstanding mildew, piling and shrinking but they wrinkle and can fade in the sun
It's what's inside that counts....
1. Foam core with feather is best for a slouchy look but not messy.
2. High density foam is best for a clean and modern cushion. Best for tuxedo styles
3. Foam core with polyester wrap best for a relaxed look that delivers softness and comfort
Think print - have a sofa that needs a fresh look? Add a bold pattern to totally transform the look. What about the cost? the cost to re-upholster an existing sofa is about 10-20% less than the cost of an entirely new sofa but if the sofa needs repairs the total price can equal the cost of a new sofa.
LAWSON
This is another timeless piece. It is often skirted but with a relaxed vibe and you often see it slipped covered in white. This is a go to for family rooms and dens. It is also a breezy and casual look for a cottage, too. The large rolled arm is perfect for perching!
TUXEDO
Debonair just like the name, it is streamlined and really suits contemporary spaces. It has a boxy profile with NO curves, tufted and plain cushions. It pairs beautifully with shapely pieces like lamps and tables.There are variations on this style - you will see some that are quite modern and others that are more classic
WILLIAM BIRCH SOFA
This style has low arms which can really help a small room or a small open space feel bigger. the combination of a high tight back, loose seat cushions and low arms make it very comfortable. This sofa is traditionally un-skirted and accented with a turned leg with or without
casters
.
CHESTERFIELD
The masculine chesterfield has a tufted detail and a sense of real solidity. The arms and the back tend to be the same height. It's a natural fit for a den or library especially when upholstered in a cognac hue leather, but it can also look very pretty in pastel.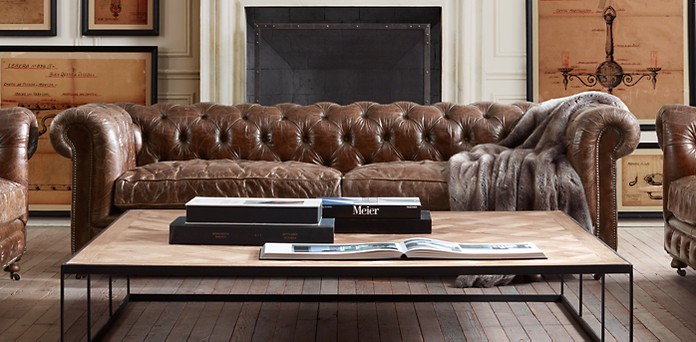 Labels: best sofas, buying a sofa, chesterfield, kiki interiors, lawson sofa, living room furniture, sofa styles, timeless sofa styles, tips for buying a sofa, tuxedo sofa