Go Green!!
Happy Earth Day! And in celebration of Earth Day (not to mention, it is finally feeling and looking like Spring is ACTUALLY here!) why not add some touches of Green in your home decor ? Emerald Green is one of the Hottest colours in 2013.
There are so many hues of green but this year
Pantone has selected Emerald Green as one of the hot colours for 2013
. I love green it looks great with neutrals and I love the way it brings some of nature' s beauty inside. It is calming but full of life, too!
A great and easy way to bring some green into your decor scheme is plants but if you don't have a green thumb...why not try these alternatives
1 - Glass vases. Remember accessories should be in sets of three. They do not have to match either - different shapes, heights and even tones are super stylish! Look at garage sales of other home decor stores. See below, these vases are from
Pottery Barn
and have a bit of a vintage look but Emerald green also looks great in a more contemporary style, too.
2 - Decor Pillows. I Love green and white in any type of pattern - herringbone, lattice, stripe I just think it is so fresh and fun - perfect for spring! I love this Ikat decor pillow from
Etsy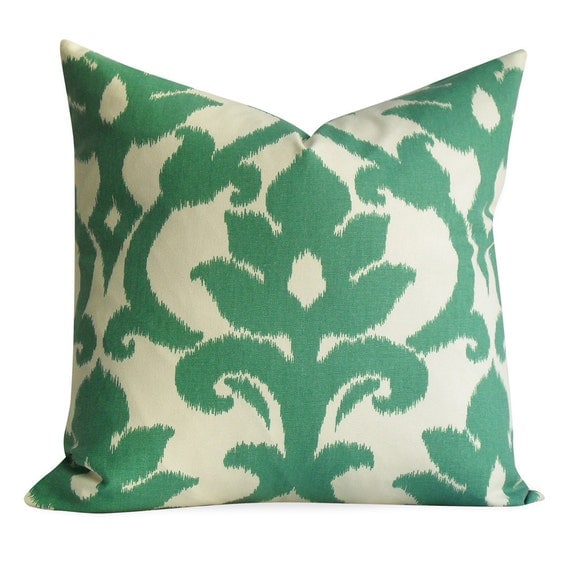 3- Paintings. I love how art can totally transform a space and really set the tone. Any art piece using this gorgeous green will make a room feel calming and elegant at the same time. This colour has so much range and so do art styles - you can lean toward a more traditional look or go bolder with a more modern style. this piece by Jillian David is available at
Art.com
4 - Bed Linens. Add some colour to your bedroom this spring and bring in the green! It will make your bedroom feel and look tranquil and soothing with a splash of fun!
5 - Area rugs. Another way to add some colour in your room is with area rugs. You can add colour, pattern and texture with just one rug. even if everything else in the space is neutral this is a great way to add some real colour pop. One of my favourite on line stores for rugs is
Homesav.com
6 - A chair or stool. Some times you just need a cool and funky piece and preferably something with function, too. this cartoon-like stool is really fun and would work very well in a family room.
Labels: earth day, emerald green, emerald green accessories, emerald green decor tips, home decor in green, kiki interiors, pantone 2013