Quiet Colour
If the thought of inviting colour into your space makes you head spin, follow these easy ideas to bring a bit of life into your world.
A neutral space is easy to work with because it is basically a blank canvas, the possibilities are endless.
Options:
1- play with texture, instead of colour, this is a great option for those undecided folks. So think about adding - stone, wood, metal, plastic, leather, wool, other fabrics (both light and heavy) and plants. This will give you variety without having to commit to colour
2 - play with
pattern
. This will bring more visual interest along with some contrast to your space. This about pairing warm tones against cool tones for some contrast. Neutrals work with neutrals, so don't be afraid to layer - caramel with beige and charcoal and silver
3 - play with metallics.
Metallics
can really add an element of depth to a space without feeling too bold or dramatic. Gold and copper can add some warmth and sophistication to a space and silver can cool down a space that has a lot of warmth. Metallics can be seen in lighting,
occasional tables
, accessories and even some fabrics.
This image is a perfect example of using all 3 of the above suggestions. There is a variety of texture, some great silver metallic accents and some pattern. So if you are shy about colour these suggestions can really help you create a visually interesting space.
When it comes to colour, start small.....
especially if you are new to colour. Don't feel like you have to go "all in".
- Choose a favourite colour, instead of following the latest colour trend and add little touches in the home
- Choose a colour that feels integrated in the existing look and style instead of stick out like a sore thumb. And work with that family of colour, for example a navy throw blanket, with some colbalt pattern pillows and a steel grey-blue lamp.
- Opt for noncommittal items like
pillows and throws
(you do not have to go with custom) to add colour to the space, other great ideas : try lamp shades, candles, vases, glasses, plates, linens and books
- New art is another easy way to inject some colour. Again you don't need to spend or splurge, try going to a local decor store like
HomeSense
or try taking on a DIY project to add art in the home, you could frame paint chips or paint a simple canvas in stripes or squares, try framing
scrap booking paper
.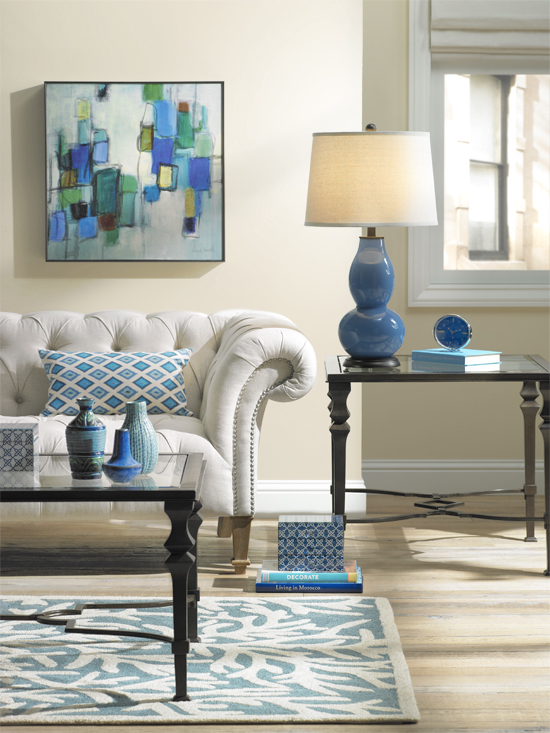 Expand your palette. so now that you are a bit more comfortable with colour, it's time to introduce a second accent colour. So where to start?
- Green and blue are colours we see in nature, so they almost act as neutrals. If you are stumped as to which colour to bring in as a secondary hue try one of those, they are a pretty safe bet with just about any scheme
- Fabrics are a great guide! Check out fabrics at a
local store
and take a look at fabrics that have your existing colour and see what combinations they have.
- A sophisticated colour palette has depth so do not choose hues in only that exact colour match. A bit darker and a bit lighter will give the full spectrum in the space and add some richness, and don't forget to add a touch of white and a touch of black to the room - simple photos frames and candles are easy ways to do just that.
Go Bold, Not crazy!
You can go a little over the top with colour if you are not careful, so please pay attention!
You won't look crazy if ....
- your palette is mostly colours from the same family, for examples stick with either primary colours, or pastels, or jewel tones
- you inject too much black, it is needed to anchor the room but too much is harsh, stick to greys, taupes, whites and other softer neutrals, like your walls and major pieces
Don't be afraid, be brave and apply that colour! It can always be toned down with neutrals and textures.
Labels: colour trends, colour your world, decorating with colour, home decor, kiki interiors, working with neutrals