We Answer Wednesday - How to style my fireplace mantel
"This winter, my fireplace has been working over time! I love snuggling up to my fireplace on cold winter days but my mantel is a mess. I want it to look good, can you send me some easy ideas to make my fireplace mantel pretty?" - Kelly S.
Great question, Kelly! I think a lot of people have this problem. The mantel should really highlight and bring focus to the
fireplace
not be an eye sore in the room. We see this all the time when people use the mantel as a bit of a random collect-all area or a high 'hiding' space that the little ones can't reach!
A mantel isn't the place to pile up mismatched knickknacks or to leave bare, to gather dust. It's an eye-level stage of sorts, and a prime spot for showing off
artful accents
and collected treasures. Use the fireplace's facade as a cue to your color palette.
Then select one large item to feature--a light or open sculptural piece is best because it won't block the other objects. Pair it with a themed collection, like a few framed family photos or a grouping of different-sized glass vases. An oversized mirror or piece of art makes an ideal backdrop.
To keep it super simple but make an impact: follow this image - even if this more traditional style isn't to your taste, take the principles of layering and add a modern or country twist.....
Create 3 layers of décor for your mantel. Always includes layers 1 and 2. Layer 3 is optional depending on your decorating style.
1. Start with an anchor piece - an
oversized mirror
is an easy option. It let's light bounce around the room and it works with any decor style. We like a piece with an interesting frame. This image shows a dark frame which give some contrast in this very light tone-on-tone room but you could add a bold
art piece
that would give you the same impact
2. The weight and height. this image is demonstrating formal balance, that means you have two pieces (floral arrangements) that are the same colours, size, height, scale - identical and they are on each end of the mantel. Creating a 'frame' for other, smaller display items. These pieces could be vases, tall candles or candle sticks, sculptural items...it doesn't matter just be sure to keep the height to the sides and make sure the items fit on the mantel (you don't want anything to hang over)
3. (optional) Filler. Now this can get a bit tricky...you want to fill that open space under the mirror and between the flanking vases with decor pieces. Notice here everything is shorter, so not to block the mirror but the pieces have an airy quality - the glass candle sticks, the white planters and the silver circle pieces aren't heavy or bulky. We see 3 main style of items and a few votive candles that are carefully dislplayed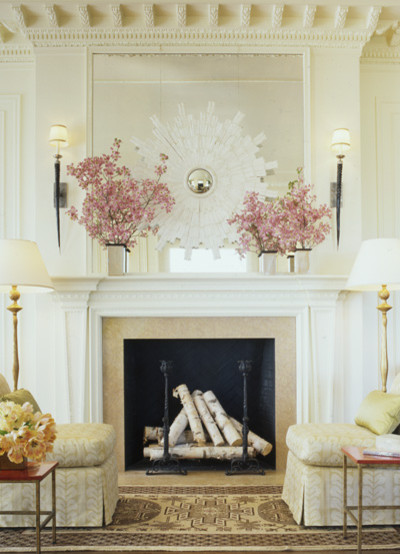 Here's an example of a mantel with layers 1 and 2 but not 3. Again these principles of layering can be used in all decor styles, just replace
the pieces
with items in your taste and style.
This country style mantel uses all 3 layers. The pops of black help anchor the space and the textural elements with the mantels itself, the greenery and the woven chargers add some warmth and the display items compliment the decor style and they relate to one another.
It important to keep scale in mind not only as the objects relate to the fireplace, but also as they relate to one another. All of the items should overlap each other so that they feel connected to each other and act as a cohesive unit. Think of it as a step-down effect from the tallest point in the center of the mantel to the shortest point on the outside edges. You want to take small, gradual steps without any jarring height decreases.
Do you have a TV on your mantel but you still want to create a beautiful styled mantel? Yes, you can
See this image, that's a TV anchored by 2 beautiful vases with height, texture and a pop of bright yellow. Yellow is an excellent choice here because it is the most intense colour on the colour wheel and that means your eyes can't help but be drawn to it. So when the TV isn't on, these vases stand out and look beautiful
Once you're comfortable with the process, think about what you might want to showcase on your mantel and where these items might fit within the layers mentioned above. Consider using a mantel to showcase art, collectibles, seasonal decor, fresh flowers or even family heirlooms. Then sit back and admire your work!
Labels: bennett pros, fireplace decor, fireplaces, home staging, home staging tips, home styling, home styling tips, how to style a fireplace, kiki interiors, mantel, style fireplace mantel, we answer wednesday