Staging tips for Selling your Home in the Fall Months
It is now mid-October, we have had frost warnings, the leaves on trees are turning colour and falling, and fireplaces will soon find themselves useful. While most of us are excited for this amazing season, people in the real estate are preparing themselves because once the cold sets in, the number of
buyers
out there will start to sink.
While you still have time to prepare for the cold season, don't waste these days and take advantage before the winter season sets in. Remember that no one would want to go home shopping when it'sfreezing cold and everything is covered in snow!
One of the essential strategies to get a sale before the holidays is
home staging
, regardless if you're using the help of a
real estate agent
or selling the house by yourself.
Here are a few tips to make your home look perfect this fall.
Maintain your yard
Rake leaves, trim bushes, and use seasonal flowers. Keep it looking fresh! Always remember that the curb appeal is as important as the interior. It's the first thing that your potential buyers will see. This about an inviting front door vignette with a wreath and maybe some pumpkins or a bench with some pillows
Control back to school clutter
Back to school season can create clutter in your entry. Make sure to have a place for your backpacks, shoes and other items the kids need to grab before catching the bus. This can even give the new homeowners some great ideas too
Keep it neat and simple
While Halloween and Thanksgiving are not religious specific, too much decorating can distract buyers. Remember less is more. This can be tough with children so don't eliminate it completely but keep it subtle and stay away from the gore, keep it cute and have it is specific areas and not every square inch of the house
Use home decor that takes a cue from nature
Rather than ghosts, scary monsters or turkeys display pumpkins, hay and flowers. Nothing can scare away potential buyers like handmade scarecrows or frighteningly realistic gory Halloween decorations. A simple bowl of fresh apples or mini pumpkins as a dining centerpiece is simple but effective. An empty corner that looks odd can easily be filled with a tall glass vases filled with tall sticks. A door looks more welcoming when it is dressed up a bit too
Turn your fireplace on for showings to set the mood
A little warmth emanating from the fireplace evokes a welcoming atmosphere. A crackling fire says "welcome home", as well as well-placed candles to complete that warm, snug room. And in cooler months a fireplace will be on the minds of buyers, so make sure they can't help but notice it!
Add pillows
Use furry throws, pillows and texture in your home decor to create a cozy feel. Or, think about adding a splash of pillow with pillows in fall inspired colours, warm colours can make any space look and feel inviting. Pillows are inexpensive additions to your home and knowing how to use them will surely bring a big difference.
The cinnamon effect
Remember to use candles, incense and other oils to infuse fall scents, like vanilla or apple cinnamon. No, you don't need to bake a bunch of sugar cookies before the showing, but investing in a tasteful, subtle scented autumn candle will do just fine in eliciting that cozy feeling buyers want to experience when they walk into their
future house
.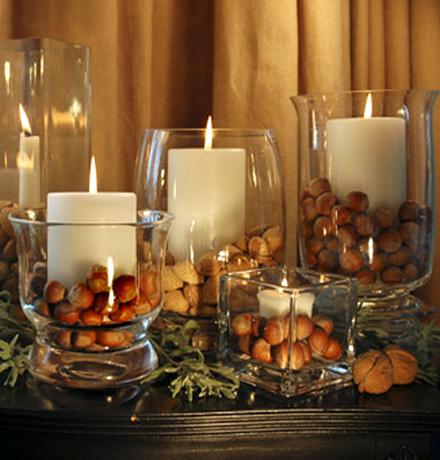 Labels: curb appeal, fall decor, home selling strategies, home selling tips, home staging tips, selling your home in the fall, staging my home, staging your home, staging your home in the fall