Nautical Decor Ideas!
Investing in a coastal home? Renovating your coastal home? Love the look of a coastal home? Here is a classic colour palette that will work in any home or cottage.
The Traditional Nautical Themed Beach House is always crowd pleaser! This colour combination is a classic choice and has so much versatility. Blue, red and white will never go out of style. There is such a variety of fabrics, furniture and accessories that can make this combination stunning on any budget.
A great way to save money on an existing furniture piece is to re-upholster it. There are so many fabulous fabrics that will brighten any piece of furniture and bring it back to life! Below is a photo of an old dining room set upholstered in natural prints.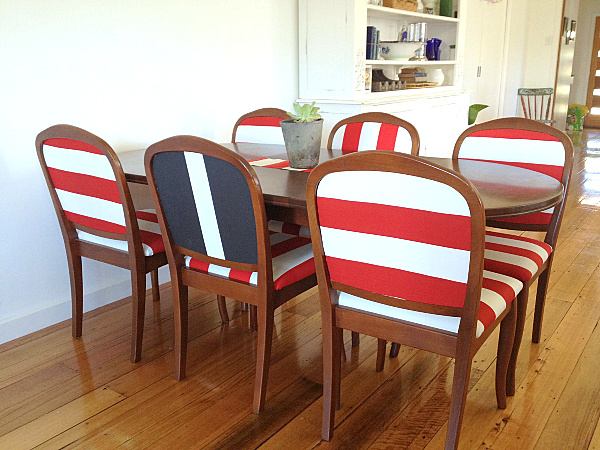 Paint is a great option for updating your space, try a mid tone blue or a navy accent wall to add to the nautical theme. Or if that's too bold, paint your walls a white, or off-white and add colourful accessories to the mix. There are so many throw pillows, blankets and accessories that can make this décor come alive. A big trend right now is anchors, and we're seeing them everywhere. Add in some sail boats, anchors and some rope accessories and you're all set! Some simple red lamps, red and blue pillows, and a striped area rug are great, easy updates that will make a huge difference in your space.
Labels: blue, kiki interiors, nautical, nautical theme, red, seaside décor, upholstering furniture, white