We Answer Wednesday - Chandelier Update
I need a new dining room light fixture but I don't want a fussy, traditional chandelier (which is mostly what I'm finding). What are some other options that have a modern feel and look?
Why not try a new take on the chandelier? Updating your lighting updates the whole space (any room). I like a light fixture with some visual interest so it's almost sculptural. Lighting fixtures that are prominent like a dining fixture should serve more than just a practical purpose.
Take a cue from this image, the whole look of the room is a blend of contemporary furniture with some traditional accents with a modern light fixture with brass accent and round bulbs. It pulls the whole room together and makes the whole space look very up-to-date.
When it comes to choosing a light fixture in the dining room, choose a fixture that is at least 2/3 the width of our table. when your fixture is being installed, walk around the table and eyeball the height to make sure it does not interrupt the sight lines in the room. Typically the bottom of the fixture should be 32" to 36" from the top of the table.
Other light fixture options:
Galieo
, available at Mikaza Home, adds some great metallic shine but with simple lines
Mezzo Sputnik
, available at Bouclair adds some great light but also visual interest to a dining room you could pair this with ghost chairs, reclaimed wood table or clean upholstered chairs with a clean line table.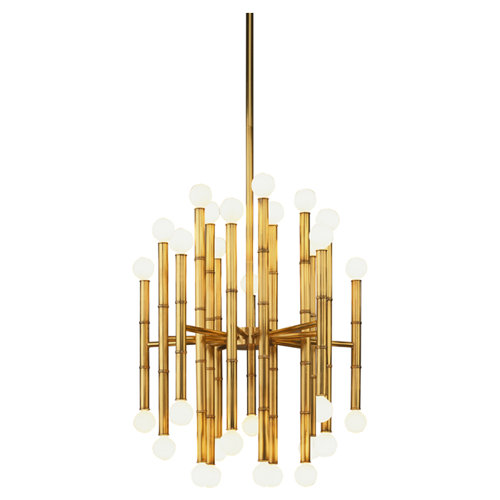 Meurice
, by Robert Abbey, available at Wayfair.com, comes in 3 finishes but the brass finish adds a real pop of glamour
Viola
, available at Mikaza Home, adds an industrial edge to the space would look great paired with Eiffel chairs in a more casual dining space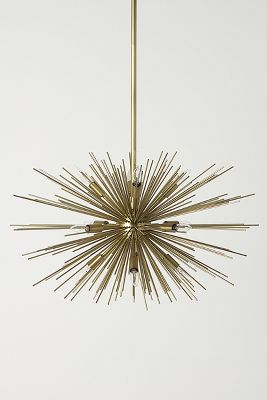 Astra chandelier
, available at Anthropologie, adds a great brass accent, the spikes combined with the round bulbs add real visual interest to any space
Perugia
, available at Zone Maison, this light fixture is where traditional glamour meets industrial.
Sputnik
, available at Bouclair, comes in many finishes and adds some real modern yet industrial feel.
Labels: dining room chandeliers, dining room light fixtures, dining room lighting, lighting, modern chandeliers, room updates, update lighting, we answer wednesday