Colourful Place Settings
We love dinner parties! From the great food and wine to the fantastic company, throwing dinner parties is such a great way to enjoy food, friends and family. We know that there are a lot of aspects that contribute to a
great dinner party
, and having a beautiful place setting is one of them! Putting together plates, napkins, placemats and glasses is a pretty basic thing to do .. but creating a beautiful place setting is more of a challenge!
A dinner party is so elegant when the table is ready when guests arrive.
We know from working with our clients that sometimes incorporating colour into places in your home can be intimidating – and we know your dinner table is no different! Well, fear no more! This blog is going to show you the best places to incorporate colour into your place settings without sending you running for the hills!
1. Start with a placemat or charger.
This is a FANTASTIC place to incorporate colour. Most people have a set of white or ivory dishes, which is perfectly fine! White is a timeless neutral and can be dressed up or dressed down, and also goes with everything!
Add a charger underneath your dinner plates. Having a set of chargers is a great investment. They don't have to be china, all they need to be is beautiful and to your taste!
Chargers
can be as inexpensive as you'd like, so having a few different sets won't cost a fortune!

If you don't have chargers, than a placemat is another great option. Colourful placemats are a great addition to your table & don't have to break the bank! Colourful, patterned, textured, whatever you like! This gives your table a more refined look and adds a different element.
2. Mix up your serve ware.
Do you have a stunning set of china getting dusty in your buffet? Bring it out! Life is too short to worry about a chipped glass or plate. These beautiful items are meant to be used. Incorporating a vintage bowl on top of your white plate and colourful china adds another layer to your table and adds interest as well. Among all that, it's a conversation starter! You can be sure one of your guests is going to ask about the beautiful dish that is in front of them. If your concerned about breakage still, maybe the bowl is just decorative. It can be moved off the plate upon dinner being ready.
Do you have a set of silver that never gets touched? Bring it out! Show off these family pieces or collectables. No one sees them hiding in a cabinet and adding different elements to your tablescape makes it unique and personalized!
Colourful glassware is something we are seeing a lot of these days too! Tinted wine glasses, coloured water glasses, glasses with coloured stems, be creative! There are many places to add your flair.
3. Add a table runner or table cloth.
Depending on the
formality of your party
, adding a table cloth or table runner will add another layer, and an opportunity for more colour! There are so many fun patterns and colours of table linens available. If your charger/placemats, plates and bowls are all solid colours, this is the perfect place to add some pattern! It doesn't have to be a crazy pattern like animal print, a simple subtle pattern would be beautiful too. Depending what you like, this options are truly unlimited. Are you having a formal party? Try a beautiful damask patterned table cloth. Is this a casual dinner with friends? A geometric table runner would add interest and variety to your table.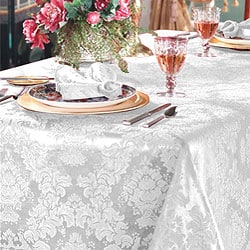 The best place to add colour. Fresh flowers, candles, you name it! Fresh flowers come in all shapes, sizes and colours. You could do one large vase, multiple small vases, vases in colours with neutral flowers, glass vases with bright flowers, vases with multicolored flowers… whatever you like! Do your thing!
If you need some centerpiece suggestions … check out our blog on centerpieces!
http://www.kikiinteriors.blogspot.ca/2014/11/we-answer-wednesday-all-about-holiday.html
Labels: centerpieces, colour on the table, colourful china, colourful plates, colours, geometric patterns, kiki interiors, table runners