Perfect Pairs
There are perfect combinations everywhere you look and home decor is no exception. If you are looking to spruce up your home this spring take a look at these paint pairings for your space.
Calming -
For a soothing combination with a bit of pop. This is perfect for anyone looking a for that farmhouse look. The ancient Marble is a great basic and the Hubbard Squash is a great accent for a furniture piece like a bookcase that you really want to highlight.
Sherwin Williams Ancient Marble
paired with
Sherwin Williams Hubbard Squash
.
If you love a cooler green-gray palette in a contemporary space. Try combining
C2 Ice Fog
and
C2 Artichoke Heart
. They transition well together so one colour could easily be the dominant hue in the home and the other an accent. And you can always add even more punch with some pops of orchid or tangerine or keep it cool with white.
Here's a hall, staircase and entry in C2 Artichoke Heart. In this more traditional style home it works but it can also work in a contemporary space.
Classic -
If you look a classic look but still a bit on the bold side why not opt for a combination of black and white. there are endless possibilities of how you can work this combination in your space. Black can work well as an accent, or furniture pieces, drapery rod, accent chairs and more. And you will always find art and textiles in this class combo. Try
BEHR White Truffle
and
BEHR Black Suede
in your space.
BEHR Black Suede Bathroom with white tile and fixtures give a dramatic yet classic look.
BEHR White Truffle walls look so crisp and clean and with small black accents including the french door and accent chair (which is in BEHR Black Suede) you have a a classic and cool entry.
Chic - you can have colour on your walls without making the space feel closed in. Colour can also add warmth to a space. With the right furniture and accessories you can change your look from traditional to more contemporary or a hybrid of both.
Benjamin Moore's Seersucker suit
is a perfect dominant colour and it looks so chic with a clean white sofa and some cognac leather club chairs. and if you want to add some more paint accents in the space try
Benjamin Moore's Brownberry
for furniture pieces or smaller areas like a powder room or entryway - although a darker colour it has a lot of warmth almost like a terra cota so it pairs beautiful with most other neutrals.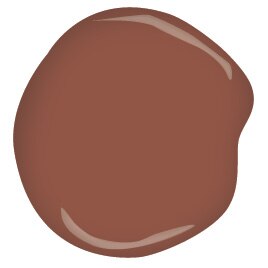 Labels: behr, benjamin moore, bennett pros, C2, kiki interiors, new look at home for spring, new paint combos, perfect paint, sherwin williams, spring update