Easy ideas to spruce up a Teenage Boys' Bedroom
If you have a teenage boy at home, I'm sure an improvement would be just picking up the clothes off of the floor and maybe getting rid of the smells.....but there are some great ideas out there to really show off and highlight his personality and interests in his bedroom.
1 - If your son loves sports use the equipment as decor. So install shelves or
other hanging equipment
and display skateboards, footballs, soccer balls and more.
2 - Don't be afraid of colour. For boys try some pops of yellow, orange, red or lime green - they are fun and sporty. these colours could be in furniture like a great chair or
bean bag
seat; or bedding or drapes - would be the easiest ways since in a few years they can be replaced without any major work. Keep the walls neutral, and allow the additional items in the room to pop. But if you really want to get some colour on the walls, paint is an easy and inexpensive fix.
3 - Get creative. Make the space truly his by turning some of his
old t-shirts
(think favourite sports, characters, colours) into
pillows
for his bed, chair or window seat.
4 - Think about easy storage. Tired of seeing his laundry on the floor? Get an extra large laundry basket. I'm sure he won't separate lights and darks but with a large basket, maybe he will at least keep the floor clear. Don't forget about hooks and shelving - if it is easy to access, they are more likely to use it.
5 - Posters, posters everywhere! Posters are really affordable and easy plus they really show of the personality of your child but they can look ratty after a while or mark up your walls. So why not paint a wall with
magnetic paint
? Your son can easily update that wall space with big and small posters and change them up whenever he wants. And for an added bonus you could paint
chalk board paint
(there are so many colours other than black and green) over the magnetic paint and he will have a wall where he can get totally creative. when it's time to sell the property or just update you just paint over. And this is a great idea for a little boy too
6 - Don't forget about a
workspace
. A corner or a spot in the room for homework is important. So be sure to think about lighting, surface space, shelving and storage. you don't have to spend a lot on a desk to get what you need. I like open shelving above the desk which is a great spot for containers of supplies, books. a calendar and/or cork board are great too to keep them organized. I also like a desk with some closed storage. You can get a separate storage unit or a desk that comes with one. Plus a comfortable chair, it doesn't have to be a 'desk' chair. If you have 2 children in the same bedroom be sure to have a workspace for each of them.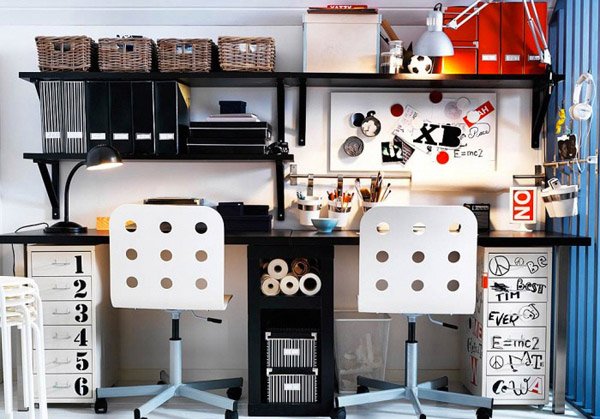 Don't forget to let them get involved in the process. With new space all for them that they played a part in chances are they will care for it more
Labels: boys room ideas, decorating a boys room, kiki interiors, teenage boys room, updating a child's room