Radiant Orchid in the Home? Yes you can!
So it's official the
colour of the year for 2014 is Radiant Orchid
!
What is Radiant Orchid? the shade is a blend of fuchsia and purple and it is said to inspire happiness, confidence and love. It works well with neutrals like grey, taupe, navy and chocolate brown and looks so fresh and flirty with white. It can also be paired with turquoise, teal and even light yellow. And if you really followed the green trend of last year (Emerald green in 2013) don't fret you can pair orchid with shades of green too - I especially love it with lime and olive!
This colour definitely makes a statement and you might be thinking "how can I decorate with this colour?" "where will this colour work in my home?"
Here are some great ideas to bring this fresh colour into your home this year.
1. Try it in the
bedroom.
You can go really simple with a throw or a few accent pillows to liven up your boudoir space. Or you can really embrace the trend by adding a
wallpaper
accent wall (or painted accent wall) behind the headboard, bed linens or a funky orchid chair or bench. The image below has really embraced the trend this year with bold bed linens in orchid and a splashy headboard in lime, orchid, violet and white. Don't over look the area rug in a stripe pattern with shades of purple orchid and lime. the accent wall in charcoal adds even more drama to this bedroom
The image below has taken basic grey and white bedding and added an orchid bench and pillow (and a simple floral arrangement on the night stand) and the room really comes to life.
If you like a very subtle and soft look in the bedroom, check out this bed linen set from
Restoration Hardware
This bed linen set has a classic trim in a sift tint of orchid and against the crisp white - so fresh. the charcoal wall colour adds drama and richness to the room. this is a bedroom with a perfect balance of masculine and feminine.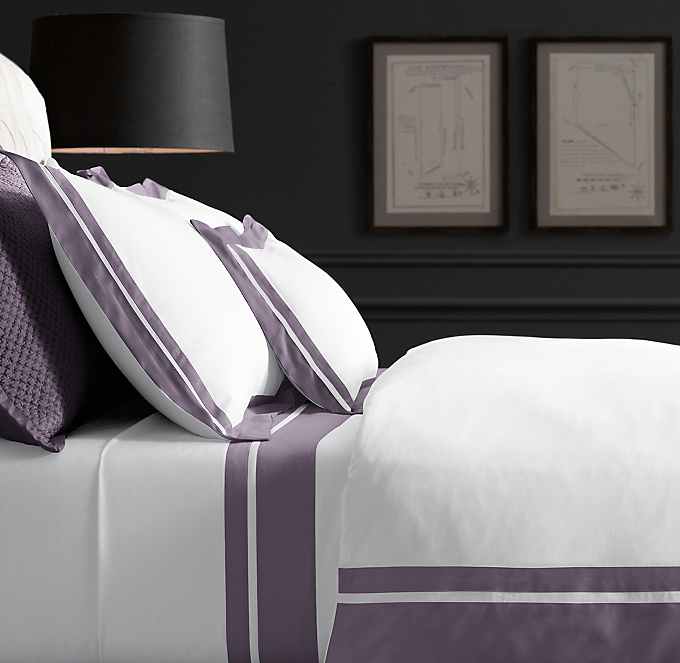 2. Try it in your
daughter's bedroom
or nursery. Looking at the softer and more subtle tones of orchid - this colour would an ideal wall colour (or accent colour) for a
little girls room
. With the right basics, like a grey or white area rug, you would need to change too much in the space as she matures you can simply add different accessories as her interests change.
3. Accessories. Most of us have at least one very neutral room in our home. And neutrals are great because they are timeless but every room needs a pop of colour now and then, so can this bold colour work in a living room? Sure! But just don't over do it - this orchid colour packs a punch and you can make a big impact with just a few pops here and there.
4. If you love it - be bold! Don't worry about what next year will bring...if this colour really speaks to who you are - bright, joyful, loves love and high energy why not make this your statement colour and make an impact in your dwelling. the bedroom, bathroom and living room are easy starting points to make your mark. Look at options like:
wallpaper
,
paint
, textiles like drapes
pillows
- mix prints and patterns and layer the tints and tones and rugs,
art
,
wall decals
and floral arrangements and even
lamps
to really take this look to the max!!
Labels: bennettpros, colour of 2014, decorating with radiant orchid, kiki interiors, radiant orchid at home, radiant orchid bedrooms, radiant orchid home accents, radiant orchid in the home