5 Easy Fixes to Make your Home 'Buyer-Ready'
5 Easy Fixes to make Your home More Appealing to Buyers
When it comes to selling your home you always want to have your best foot forward. and if it is a tough market you really cannot afford to be anything less than showcase perfect!
One of the secrets in catching the eye of potential buyers is to highlight the features of a home that are important to them. Showing buyers that you have what they need will help sell your home fast and get the best price.
But of course, not every home is perfect. You might not have the best location, neighborhood, space and other factors that are important in choosing a home. But those imperfections, especially the ones you have control over, should not hinder you from having a great showing.
We listed 5 tips that will make your home appeal to home shoppers:
#1 Style according to location advantages
There is little you can do about your property's location. Instead of masking location disadvantages with adjectives in your listing, you can factor the location to your marketing plan. Is your address in a hip, urban location? You might want to
stage your house
in a way that it will appear attractive to young professionals. If your home is located near a high school, designing your home in a way that it will reflect the style that would appeal to a growing family is important. In short, visualize the needs and characteristics of a
buyer
and set up the property accordingly.
#2 Fix and repair before the showing
Before your first showing, make sure that everything is in working condition. Do you have leaking faucets or clogged pipes? Fix anything and everything that is broken because those become a major turn off. Prospective buyers wouldn't want to figure out those repair needs themselves and they will just look at the listing down the road instead. If you are
working with a realtor
, ask them if they have a list of preferred professionals that they could recommend to fix those repairs around the home, or you can check out a recommendation website like
Angie's List
#3 Make scents!
First of all, if there's unpleasant odor in the property, get to the root of the problem and fix it! No one wants to live in a smelly house. Secondly, don't overdo it with air fresheners. Most people like lemons so a bowl of lemons pierced with a fork will do the trick. Lightly scented candles are good as well, scents like fresh linen or clean laundry are usually safe bets. For cooler months, try bakes cookies or even just a bowl of water with cinnamon and sugar in the oven at a low temperature
#4 Sufficient lighting for every room
Buyers find bright rooms really attractive. Draw back the curtains, open the shades, and make use of artificial lighting if you need to.
A tried-and-tested technique to achieve the most balanced room lighting is to place three lighting sources in a triangular configuration. For example: a floor lamp, table lamp and ceiling light fixture are three sources of light in a room. Another tip is to replace dated lighting fixtures; an inexpensive and quick upgrade that can have significant impact on the look of a property. Remember when you are preparing for an open house have all of your lights turned on - the house will look and feel bigger and brighter!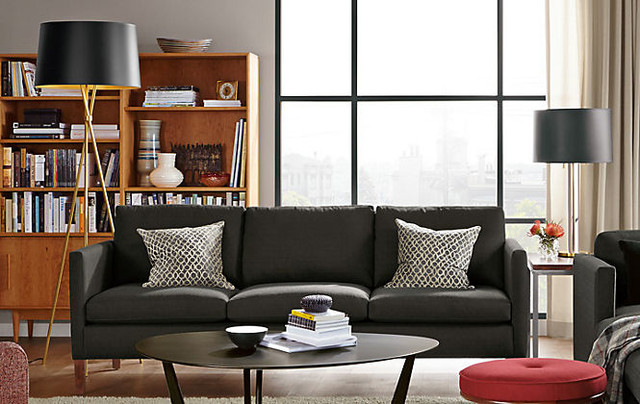 #5 Declutter
When home buyers tour your house, you don't want them to focus on the clutter. If you have personal belongings on display, like family pictures or collection, or just anything that will distract potential buyers, tuck these away. Think of it as a 'pre-pack', you will want to have those items with you at your next home, won't you?A second benefit to a properly decluttered space is that is makes the place look larger. Bigger is always better for buyers. A bigger space encourages them to imagine how they will add their own personal touch to the property and without your personal belongings, they can start to mentally move in with their things.
Labels: home staging ideas, home staging tips, ottawa home stagers, ottawa home staging, ottawa realtors, selling my home, selling my ottawa home, staging my home